Happy New Year! 2021 couldn't get here soon enough, although I must say that nothing much has changed for me! I'm still isolating, no parties and no big family dinners. On the bright side, our addition is well underway! Today we have gutters going up, portals being built and the sheetrock guys will be here to give us a bid!
I have also gone back to work in my makeshift studio! Painting Santas and finally finishing a Gift Giver I started over a year ago! He is built over a Sky Vodka bottle and has taken a while to tell me who he wants to be. He is turning out to be quite a character and will hold lots of toys and ornaments when he is through.
Speaking of special characters, I thought I would share several special orders that I have done over the years.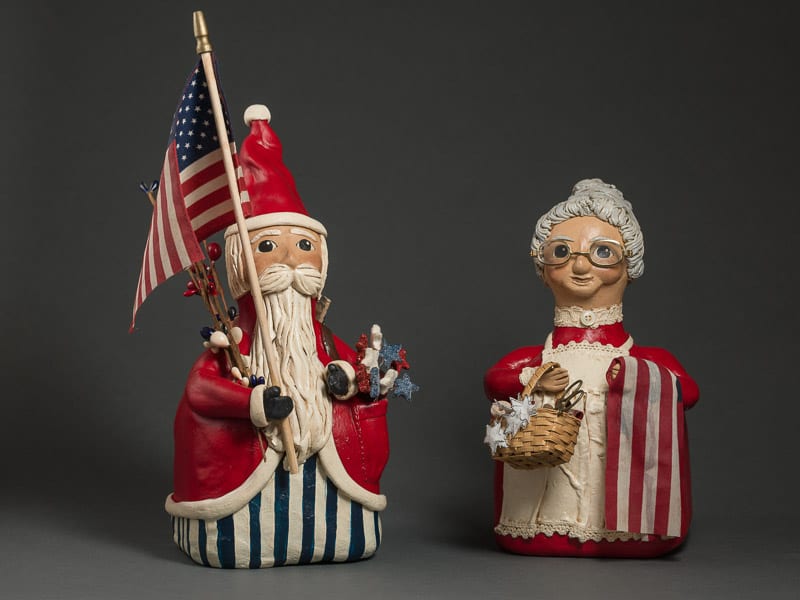 Above are patriotic Mr. and Mrs. Clause. When my customer brought me two Patron bottles and said she wanted a Mr. and Mrs. Clause I was doubtful that I could pull it off as I usually use tall and slender bottles for Father Christmas. It took me most of the year to wrap my head around this one. Then one day it hit me that since her husband had a career in the military and they often bought patriotic Santas from me, I could go all out with this order! Very different from what I normally create, but then that's what special orders are all about!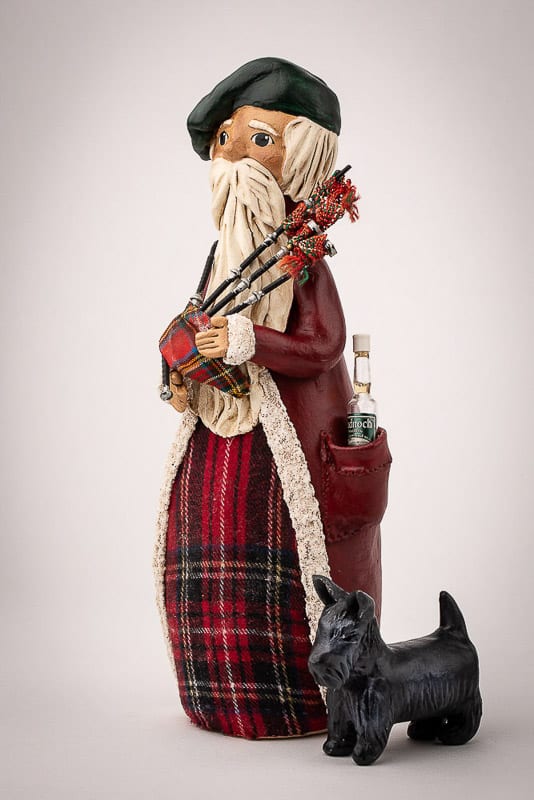 Now this handsome bagpiper was made for a special friend of a customer, who loves Scotland. I listed everything I could think of that would depict a Santa from Scotland. Would you believe it, I found bagpipes that once belonged to a doll I was given when I was about 8. That was a long time ago! I also found a mini bottle of Scotch Whiskey and the distillery still exists! It's a good thing I don't throw anything away! I completed him by making a Scottie out of a wine cork!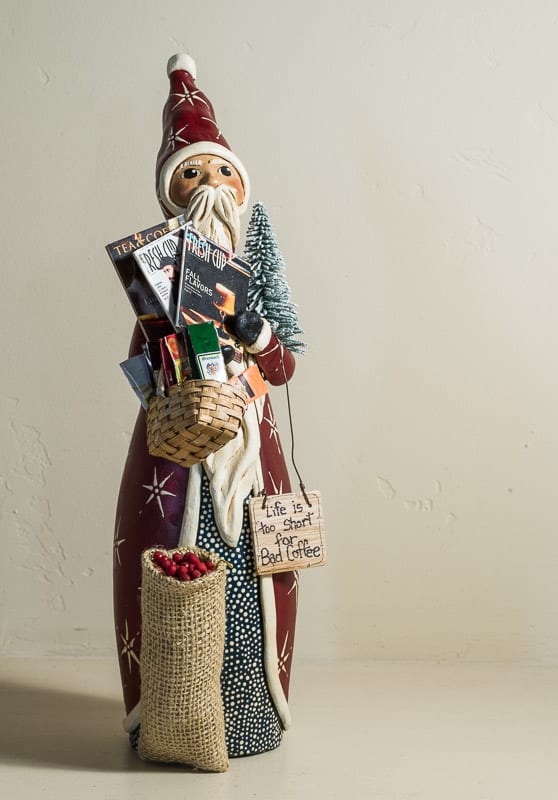 Finally, I made this coffee lover for one of our Hawaii Coffee Association auctions in Hawaii. His basket is filled with mini bags of coffee from Greenwell Farms in Kona, Hawaii (www.greenwellfarms.com), which is our family business. He also holds many magazines relate to our Specialty Coffee Industry. His bag is filled with coffee beans ready to be processed (and yes I did make every one of those beans!)
Hope you've enjoyed seeing some of the many special orders I have done over the years. I am taking special orders now for this year. By March, I hope to be back in my "real" studio, so if you have a unique figure in mind this would be a great time to contact me. I also do personalized ornaments with either special dates, names or special sayings on the sign. I like to have these done by October (they make great grandchildren gifts)!
As always, please stay safe out there!
Beth